Coming Up!
The 32nd Annual Winter Solabra­tion!
A Community Celebration of Music and Dance!
Saturday, December 23rd, 6:00 to Midnight, at the Joyful Ballroom, 3695 W. 72nd Avenue in Westmins­ter

featuring a Mummer's Play, the Maroon Bells Morris Dancers, the Solstice Sword Dancers, Breathless in Berthoud, The High Country Dancers, Bryan Connolly Extreme Juggling, Storyteller Susan Marie Frontczak, the Abbot's Bromley Horn Dance, and More!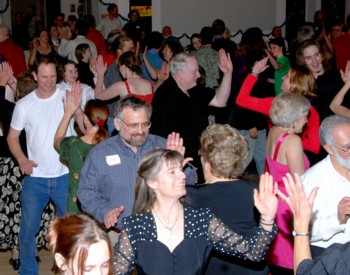 Great dance music will be provided by Ragged Edge with callers Chris Kermiet & Patricia Danscen.

Join us for an evening of traditional American community dances and great holiday entertainment.

Tickets & more information at wsolstice.org, or check out our Facebook Page.
---
Here's the November 2017 Poem-of-the-Month:
The Windows & Siding People
are all over our neighborhood,
like Jehovah's Witnesses,
going door to door, selling Salvation.

Hear it on Bandcamp,com
Here's the October 2017 Poem-of-the-Month:
Depression floats in like a gloom—
I read in my room;
held there, quietly, on the loom of time
by the threads of desire and anger.

Hear it on Bandcamp,com