Coming Up!
Barn Dance at the Altona Grange — Friday, April 13th

Sponsored by the Living Arts School, from 7 - 9 pm. $9. Under 11, Free!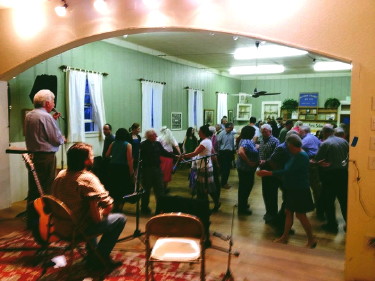 You may purchase a ticket in advance through the Living Arts School website.
Chris Kermiet calls to live music by Sage Grouse (Dave Brown, fiddle; Pat Carbone, banjo; Ellen Rosenberg, guitar) plays both hard-driving and sweet old-time tunes for your dancing and listening pleasure!  No experience necessary, all ages welcome.  All dances will be fun and accessible to dancers of all sorts...bring a friend and experience the joy of this old-timey tradition.
---
Here's the April 2018 Poem-of-the-Month:
Come to dinner—
bring a froggy.
We'll have champagne.
I'll get you groggy....

Hear it on Bandcamp.com